PREMIUM PERSONAL HUMIDORS & CASES
We carry an assortment of personal humidors and cases that set the modern day standard for the well-made, well-priced humidor. Crafted using fragrant Spanish cedar and a beautiful selection of wood veneers, these classy, reliable chests come in a wide variety of sizes and finishes.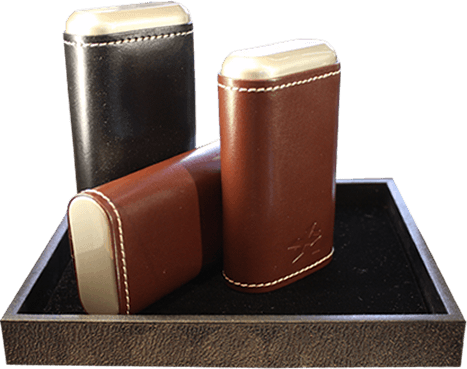 The world renowned XIKAR Xi cutter gives cigar enthusiasts the finest cigar cut with power, efficiency, and ease of use. This cutter operates by a double-guillotine scissors action, using a bottom hinge point with an internal spring to release the cutter to the open position. A locking device retains the blade in the closed position after each cut adding to the portability and safety of the cutter.
XIKAR's VX V-cut is great for slightly restricting the draw of a cigar. It leaves a beautiful cat's eye notch in the end of the cigar; therefore, leaving the cigar cap firmly in place. The VX V-cut can handle a 64-ring gauge with ease and has a built-in cigar rest on the opposite side.
Use a XIKAR twist or pull-out punch to give a cigar a more restricted draw. The smaller the punch, the more air flow restriction of the cigar. The punch will neatly cut a small hole in the cap leaving the full shoulder of the cigar intact.
XIKAR has a broad and deep line of cigar lighters from which to choose your lighter. This line includes tabletop lighters and single, double, and triple jet flame lighters with see through bodies and oversized fuel tanks for longer trips. Additionally, other choices are XIKAR lighters with windproof flames. All lighters are offered with an unconditional and lifetime warranty.